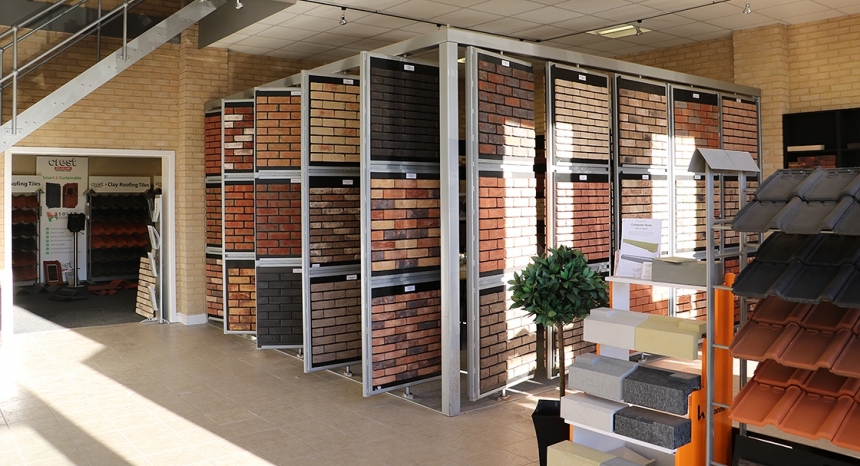 Welcome to Crest
Whether you are an architect, developer, merchant, builder, or even looking to self-build we are confident that from our extensive product portfolio, you will be able to make the ideal selection from our superb range of bricks, blocks and Nelskamp roofing tiles. All of our products are designed to compliment and enhance any type of build. From our unique portfolio of bricks, roofing tiles and blocks we are happy to advise and co-ordinate the supply from specification through to on-site delivery, this also allows you to make the ideal combination of core build products for your project from one trusted and reliable source.
In addition to our core building products we also supply natural and composite stone and with it a consultative approach to bespoke items which can vary from lintels and balustrades to staircases, floors and external wall panels.
Decades in the business
Crest was established nearly 30 years ago, and is still run by the same people who are engrained in the industry and have a passion for what they do and we are always pleased to share this knowledge and experience with our customers. We make customer satisfaction our utmost priority, hence you can be assured of a high level of service not found too often these days.
We are committed to offering the widest choice possible and a continuous product development programme focused on the long term durability, efficiency and aesthetics of our products.
Nationwide distribution
With all orders we are able to offer a fast and efficient nationwide distribution service to all corners of the British Isles. We supply the majority of our products through Builders Merchants across the UK and we are proud to be members of the Builders Merchant Federation (BMF).
Customers old and new are always welcome at our showroom in East Yorkshire to view our extensive product range. We can also arrange bespoke presentations and we frequently have demonstration days to reveal new products and techniques. However if you are based further afield it's possible that we can arrange to visit you to discuss your requirements, or we can supply samples direct to you or through your local merchant.
Should you not find what you are looking for here on the website or just require a little more information or advice, please do not hesitate to contact us on 01430 432667 or visit our showroom where you can see our inspiring range of Bricks, Blocks, Tiles and Stone first hand.
Thanks for considering Crest building products, we hope that we can be of service to you.