THE BENEFITS OF CLAY PAVERS
From ancient times, clay paving bricks have long been the favoured material of 'civilised landscape designers' who recognised the durability and creative benefits of fired clay. Our manufacturing partners have enhanced these ancient traditions with their own firing process, which gently enhances the colours and provides a silk-like finish to the clay paver surface.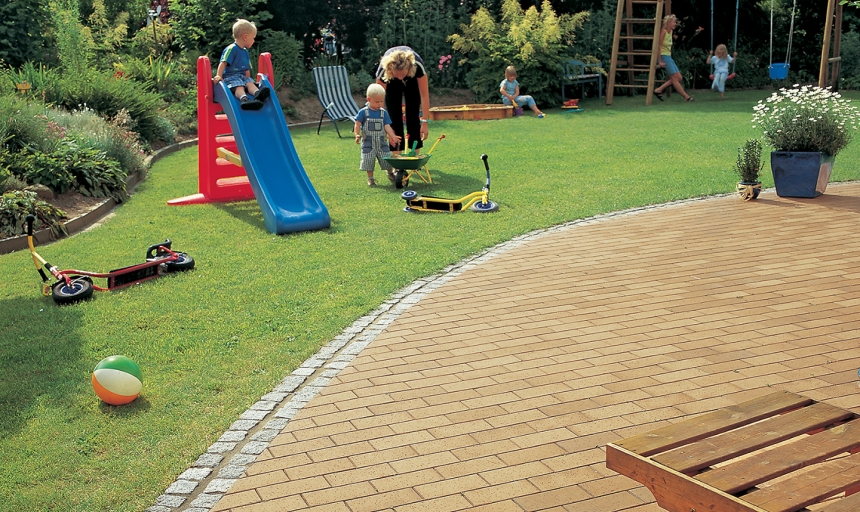 Choice
Crest brick pavers are available in a variety of sizes and the range comes in different colour finishes to suit any location whilst providing Architects and Planners with a multitude of design options for paving patterns and bond styles.
Appearance
Our natural clay pavers are produced without the use of artificial additives. The texture and colour have a natural character and as such blend in beautifully within it's chosen location. These clay pavers are coloured throughout the brick, which is obtained through the quality controlled firing process. In time the colour intensity of brick pavers actually increases, increasing the appeal and timeless character of the environment.
Durability & Sustainability
Clay pavers have exceptional hardness and are proven to last for lierally hundreds of years. Clay brick paving can be re-cycled many times over and as such retain a high residual value. In time these clay paving bricks can also easily be taken up for repair work, be replaced or relocated.
Environmentally Friendly
As mentioned above, due to their durabilty and longevity, clay pavers can be reused and re-cycled if required. The production of clay pavers is done in an environmentally friendly and responsible manner (including the reusing clay quarry locations).
By the nature of 'open brick paving' this ensures there is sufficient aeration and allows water to filter into the subsoil, which is also a benefit in environmentally sensitive or 'green' locations.
Maintainance
Crest clay pavers need little if any maintenance. Clay paving bricks are resistant to weather conditions such as frost and are not as susceptible to the rigours of modern-day environmental elements such as oil, petrol, rubber, dirt and grit.