Congratulations to the BMF
15 Jan 2018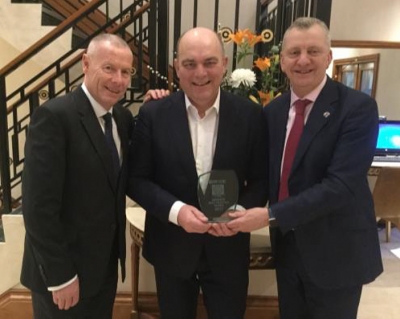 The BMF wins UFEMAT Best Practice Award for second year running.
We were delighted to see that The Builders Merchants Federation (BMF) has won the Best Practice Award for the second year running at the recent UFEMAT AGM held in Stockholm. UFEMAT is the European Association of National Builders' Merchants Associations and Manufacturers. The Award was presented by Marnix Van Hoe (centre), UFEMAT General Secretary, to Peter Hindle MBE, BMF Chairman (left), and John Newcomb, BMF CEO (right).
Receiving the award, John Newcomb said: "It is a remarkable achievement to win this prestigious Award again. Many UFEMAT members have far larger operations than our own and it is a terrific tribute to the BMF team that our work to support our members has been recognised again this year."
Adding his congratulations, Peter Hindle said: "This is testament to the professionalism of the whole team. I am delighted their hard work has been acknowledged once again."
As members of UFEMAT and the BMF, Crest are very pleased to see a UK organisation like the BMF getting such recognistion on the European stage in leading the way for best business practices and to do so for a second successive year is quite an achievement. So congratulations and well done to all concerned from all of the team here at Crest.