Industry specialists join the Crest sales team
4 Aug 2022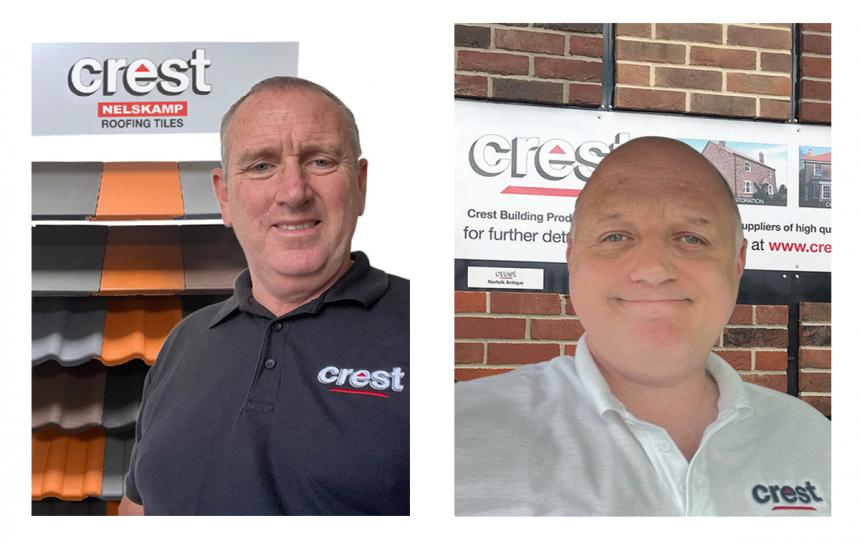 Crest Building Products are one of the UK's leading suppliers of high-quality bricks and roofing tiles and due to its continued success, Crest are excited to welcome two experienced sales managers: Kevan Williams (pictured above on the left) and Allan Orsborn to their team.

Kevan Williams recently joined the business following a nine-year spell with a roofing merchant in Swindon, previously Kevan has worked with roofing manufacturers selling both concrete and clay tiles, giving a total of over 25 year's experience in the roofing industry.

Due to his experience with both clay and concrete tiles, one of the attractions of joining the company is Crest Nelskamp's high-quality roofing tile range.

Kevan said: "I first became aware of the Nelskamp products 5 years ago and can honestly say that their concrete tiles are the best I have ever come across. Having sold plenty of their tiles during my merchant days, in my new role, I now have a chance to introduce them to all the construction industry which is very exciting, and I'm very happy to be part of it.

Allan Orsborn has over twenty years' experience in many roles within the Builders Merchant Industry, mostly spent at various Jewson branches in Kent and prior to that in central London. Allan brings extensive product knowledge in bricks and roof tiles and has built lasting relationships with customers, colleagues and suppliers over many years.

Allan said: "I have helped all sorts of sites from prestigious developments to refurbishments, providing materials and offering solutions to Architects, House Builders, Contractors and Self Builders. I am very excited to be joining Crest currently, with already one of the best brick and tile ranges on the market and the upcoming addition of the new V10's and Schermbecker Plain Tiles".

Crest managing director Stuart King said: "We have seen significant sales growth in recent years with our excellent product range and with Kevan and Allan's experience they will further oversee and develop the business."

The company is now entering a new phase of its roofing business, with the introduction of a new clay plain tile range and a plain tile look-a-like product, called the V10 which is due for release in the Autumn. Crest will be busy promoting these products over the coming months, ready to start supplying before the end of the year.

To find out more about Crest's brick and roof tile range call Kevan on 07951 975 675 or Allan on 07539 036 622 for further details.