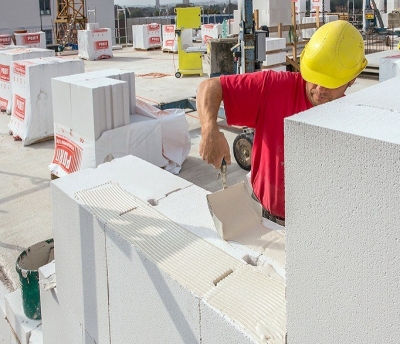 Crest supply a great range of energy efficient aerated concrete blocks.
Our Crest Aerated concrete blocks have very good physical building properties. These blocks are non-flammable, they are impermeable to frost and moisture and provide excellent industry leading insulating properties. Above all, however, our aerated blocks are quick and efficient to lay. In practice, this is a decisive argument for contractors to use these blocks, as this results in a faster, higher quality construction.
Our Aircrete Block products are manufactured to comply with European standards EN 771-4:2011 (CE-marked).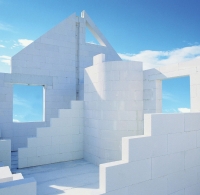 For house construction, commercial and industrial buildings.
Autoclaved Aerated Concrete (AAC) blocks are perfect for; foundations, inner leaves of cavity walls, dwelling partitioning walls, plus internal, external and fire walls in both load bearing and non load bearing designs. These building blocks have been used for over 40 years and are proven as being highly efficient for both house construction and for commercial and industrial buildings.
Energy Efficiency
All of our aerated blocks have superb technical properties and are providing outstanding energy efficiency results. When aerated blocks are laid using the thin bed joint system, efficiencies reported to us are as low as .09 due to increased air tightness and enhanced thermal insulation.
High construction speed and savings
In addition to the versatility and energy efficiency properties, the aerated blocks are characterised by its ease of working and construction. The aerated concrete blocks can easily be sawn (even with a hand saw!). This results in a higher construction speed which can deliver cost savings, particularly in developments. Notable savings can also be made in faster weather proofing, lower scaffolding costs and less on-site waste. In addition when using the thin bed joint application you use up to 5 times less mortar which means less materials, less preparation, less mixing and less mortar to move around site which provides the convenience to mix at point of construction.
There are many construction advantages of aerated blocks over traditional blocks. They are lightweight meaning less strain on the workforce and them being easier to move around site and lay plus you are not restricted to how many courses you can lay at any one time (when using thin bed mortar joints). AAC blocks are simple to cut and chase and they have unlimited finishing possibilities all providing a much cleaner working environment too.
Benefits of Crest 'Aircrete' Blocks
Aerated building blocks with excellent sound and thermal insulation
Efficient large formats are available for quick and easy building
Crest blocks are very clean, they are produced with sand and no fly-ash at all.
Excellent fire protection
Future-oriented, high-quality construction
Enviro friendly properties
Impermeable to frost and moisture
Precise measurements/range of sizes
Full range of Compressive strengths: 3.6 – 7.0 N/mm²
For more details and samples of the Crest Blocks go to the main product pages where you can download data sheets and info cards or please contact us on 01430 432667.